News
Posted by Keith Taylor on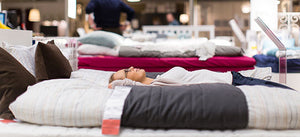 Thinking about updating your mattress? If it's become uncomfortable, or it's been more than 10 years since you bought it, then it may be time to replace it with a newer model. The first thing to do is measure your current mattress so you know what size is required. Unsure of your measurements?  The following are a list of mattress sizes aviable Single – 3'0″ x 6'3″ / 90 x 190cm Small Double 4FT – 4'0″ x 6'3″ / 122 x 190cm Double – 4'6″ x 6'3″ / 135 x 190cm King – 5'0″ x 6'6″ / 150 x 200cm...
Posted by Keith Taylor on
We have redesigned our online presence and we will be offering online shopping very soon.
Posted by Keith Taylor on
In accordance with the COVID-19 government advise our showroom is closed to the public. We are still available to fulfill essential orders of beds and home office furniture. We will only drop orders to the doorstep. Keep safe from all at Keith Taylor Furniture
Posted by Robert Taylor on
When you buy a new mattress from Keith Taylor Furniture, you have the option to avail of our mattress disposal service. We send all the used mattresses for recycling.